As a fully licensed and equipped optometric practice, Spearfish Eye Care offers a complete range of eye care services to all our patients.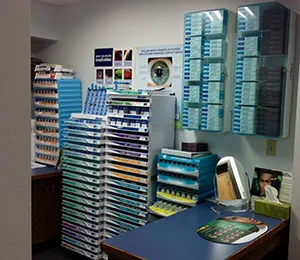 Whether the eye care issue involves correcting refractive errors with eyeglass or contact lenses, or helping you pick out the frame that looks and fits you the best, our experienced team will identify and implement the best solution possible. We promise to do our best to greet you with a smile, be on time with our examinations, answer all of your questions, return your phone calls if you have concerns, and make sure you leave our office feeling the entire experience was a positive one.
Eye Health Evaluation
With our years of experience in diagnosing and treating typical vision disorders such as nearsightedness, farsightedness, amblyopia, presbyopia, cataracts, macular degeneration and diabetic retinopathy, our team is equipped to provide excellent therapeutic medical eye care. At the same time, we offer a wide array of high quality eye care products at reasonable prices. Our patients never pay too much for the best in eyeglasses, contact lenses, sunglasses, progressive and bifocal lenses, and outstanding service.
Treatment of Eye Disease
If you are diagnosed with an eye disease, you want only the best treatment available to get your eyes healthy again. Based on your diagnosis, we may recommend a wide variety of approaches, including improved nutrition, prescription medicines, vision therapy, or surgical procedures. We treat ocular infections such as conjunctivitis and iritis, as well as eye injuries including foreign object removal and corneal abrasions.


Good Eye Care Begins With A Yearly Exam!
Although many do not realize it, the best way to protect your vision is with a yearly eye exam. An eye exam not only ensures you are seeing your best, but can detect such health-threatening conditions as high blood pressure, diabetes and even tumors. At Spearfish Eye Care Center, you will know you received a comprehensive vision and ocular health examination.
Did you know that 80% of what a child learns in school is through information presented visually? One in four school-aged children has a vision problem that, left untreated, can affect their ability to learn. We recommend an InfantSEE free screening for all infants aged 6-12 months, then a comprehensive eye examination at the age of three. We truly enjoy working with children and make the eye exam a fun and painless experience for them.
Services we offer
CRT® (Corneal refractive therapy) - Rigid gas permeable contact lenses worn overnight to flatten the central cornea and allow for no correction to be worn during the day, and to slow the progression of myopia in children
Foreign Object Removal (Emergency service available)
Diagnosis and Treatment of Ocular Disease including glaucoma and macular degeneration
Treatment of Eye Infections
Fitting of all types of Contact Lenses including toric, multifocal and gas permeable
Children's examinations and InfantSEE exams
---
At Spearfish Eye Care Center, Dr. Haivala & Dr. Robinson and our entire Spearfish optometry team are committed to providing advanced vision care in a professional and comfortable environment. As an optometrists in Spearfish, our primary eye care service includes a complete eye exam that analyzes eye health and vision function. In addition to eye exams and vision testing, Dr. Haivala & Dr. Robinson and our team of optometry professionals provide testing for glaucoma, cataracts and macular degeneration. Our Spearfish optometrists also offers glasses, contact lenses, and pre- and post-operative care.
Eye Exams
Dr. Haivala & Dr. Robinson and the Spearfish Eye Care Center team take even routine eye exams very seriously. During a yearly or bi-yearly examination, our Spearfish patients will receive a patient history review, a series of vision and eye tests, assessments of eye focusing and movement, and an eye health evaluation. Our optometrists will discuss any additional testing that may be required to diagnose an eye disease or condition. Call us a today at (605) 642-8480 to schedule an appointment.
Contact Lenses
Not sure that glasses are for you? Ask our Spearfish staff about contact lenses. Advances in the field of optometry have produced a variety of different types of contact lenses with a range of benefits. Rigid gas-permeable (RGP), daily-wear soft, extended-wear, extended-wear disposable, and planned replacement are the various types of contact lens options available today. Our Spearfish optometrists will discuss the various options with you to determine which type will best fit your needs and lifestyle. Schedule your examination today by calling (605) 642-8480. There are many advantages to consider when determining if contact lenses are right for you and our knowledgeable staff is here to answer any questions.
Lasik
Laser assisted in situ keratomileusis, commonly referred to as LASIK, is a corrective alternative to glasses or contact lenses. Like glasses or contact lenses, LASIK is a method for treating refractive conditions including nearsightedness (myopia), farsightedness (hyperopia), and astigmatism. At Spearfish Eye Care Center, Dr. Haivala & Dr. Robinson provides pre- and post-operative exams for LASIK and other eye procedures. Call (605) 642-8480 today to schedule an examination to see whether you are a candidate for LASIK.